Welcome to Utrecht
Utrecht is a big but cozy city where you can experience everything. Dive into the side streets of the Oudegracht, under the watchful eye of the imposing Dom Tower and discover trendy shops and coffee shops located in beautiful buildings. with unique wharf cellars, explore charming squares and be amazed by museums that you will not find anywhere else.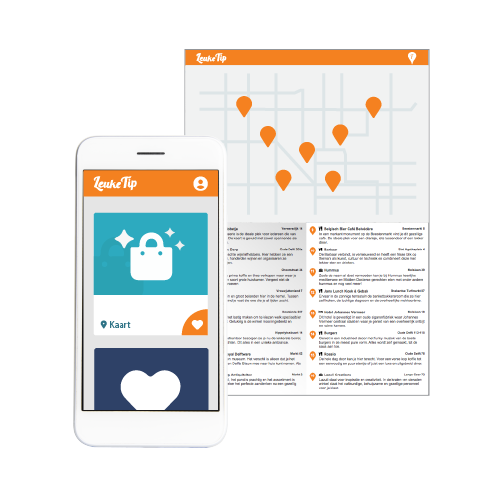 An unforgettable trip in Utrecht
Discover Utrecht together with LeukeTip. We believe that planning a city trip should not cost you time or stress. Whether you are looking for a last-minute visit or planning a complete city trip, together with locals we will show you the way in beautiful Utrecht. With a printed city guide or mobile in your hand, you can easily discover the nicest places and encounter unforgettable experience.
Start exploring with a ready-made city guide
Free city guide
Utrecht
In the shadow of the Dom Tower you will find a large, cozy city
Free city guide
Utrecht
10 inspiring shops to boost your interior
Free city guide
Utrecht
10 coffee bars and lunches each with their specialty
What do you want to discover?
Hotspots you shouldn't miss
If you are looking for a cool and original gift for someone or for yourself, take a look at Keck and Lisa, because this is where you will succeed.
Cozy stay in a dormitory room or room at the Stone Hotel & Hostel, with a nice common room and fresh decor.
Enjoy classic Italian dishes such as pizza and pasta in an atmospheric atmosphere, with a nice glass of wine.
---
LeukeTip
Discover Dutch Cities - In 5 minutes your own city guide
www.leuketip.com