Welcome to Middelburg
Discover the characteristic Middelburg. Dive into the historic centre and discover a rich past. The city, founded by Vikings and was important at the time of the VOC, has countless beautiful monuments, beautiful façades and medieval streets. sights you will also find in Middelburg a lot of special shops, boutiques, nice squares and cozy places to taste delicious dishes.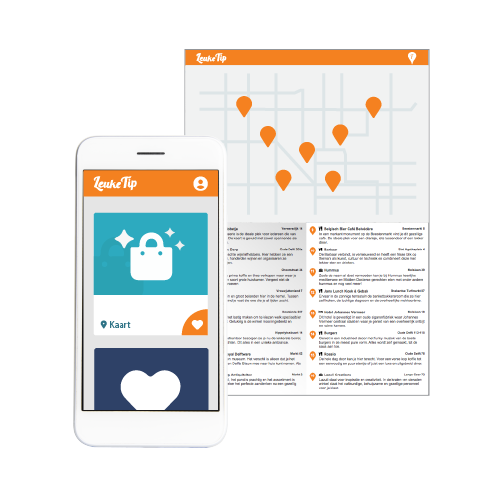 An unforgettable trip in Middelburg
Discover Middelburg together with LeukeTip. We believe that planning a city trip should not cost you time or stress. Whether you are looking for a last-minute visit or planning a complete city trip, together with locals we will show you the way in beautiful Middelburg. With a printed city guide or mobile in your hand, you can easily discover the nicest places and encounter unforgettable experience.
Start exploring with a ready-made city guide
Free city guide
Middelburg
Discover 10 special shops, hidden in the city center
Free city guide
Middelburg
15 unique places where you experience the real Zeeland feeling
Free city guide
Middelburg
5 places where you drink coffee and taste a nice lunch
What do you want to discover?
Hotspots you shouldn't miss
Get inspired by a new outfit at Studio Blique, with the latest trends in the collections of more than 80 fashion brands.
Here you will find the most beautiful vintage and designer garments for women, as well as the showcases are full of special jewellery and bags.
The menu is tasteful and varied with dishes from all over the world, and the terrace is ideal for a drink or coffee with homemade cakes.
The Spijkerbrug has very special details. The richly decorated bridge has a lifting mechanism, allowing boats to enter the harbour.
---
LeukeTip
Discover Dutch Cities - In 5 minutes your own city guide
www.leuketip.com